BIODEGRADABLE MESH
In this division we are the world's largest producer of 100% cotton meshes, which are used in aquaculture, specifically in the sowing and harvesting of mussels, being a biodegradable material, an essential condition for the survival of mussels until its harvest. Being submerged in seawater, the living microorganisms that inhabits the ocean absorbs the cotton were in a very short period of time makes all its particles disappear.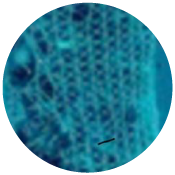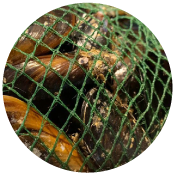 In addition to the above, we manufacture the Ropemussel (fattening cable), with a unique technology, designed and developed with our technicians from Tipy Town and German engineers. This consists of a braided cable from which the loops come out, which is where the mussels are attached until they are harvested.
It is noteworthy to indicate that Chile in this field in a couple of years has become the first exporter and the second producer of mussels worldwide.
CHARACTERISTICS OF THE SLEEVE
FOR AQUACULTURE
CHARACTERISTICS OF THE MESH FOR AQUACULTURE
> Chilean Manufacture.

> Continuous circular knitted mesh.

> Material: 100% biodegradable and eco-friendly cotton.

> Colours: Ecru and other alternatives.

> Weight: 2,9 to 4,5 grams per meter.
> Raw material that contains this sleeve is certified in its process as ecological and friendly to the environment.

> Units per pack: 12 kilograms.

> Resistance: To traction in cold environment and/or refrigerators.

> Submerged in seawater, it degrades within 30 days, as it is biodegradable.
CAPE MUSSEL
This cable is the most efficient substrate that exists and is used in mussel crops so that they are fixed from planting to harvest.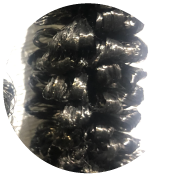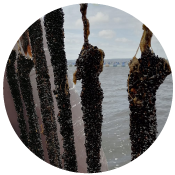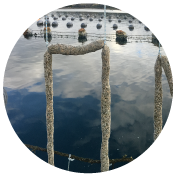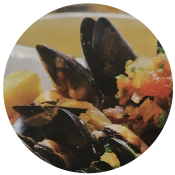 CHARACTERISTICS OF CAPE MUSSEL
FOR AQUACULTURE
CHARACTERISTICS OF CAPE MUSSEL FOR AQUACULTURE
> Raw material: this cable incorporates only VIRGIN polypropylene mixed with anti-UV, which allows maximum useful life over time

> Structure: It is a cable that, when BRAIDED, achieves a very high tensile strength in relation to its weight.
> Tensile strength 600 kilograms.

> Weight: 70-80 grams per meter.

> Length of the loops, between 1.4 to 3.0 cm per meter.

> Colour: Black.

> Sales units, 2,000 meters.